Sponsor Ad: TableTennisStore.US - 1000 XIOM, TSP, JOOLA, CHAMPION table tennis products!

by Will Shortz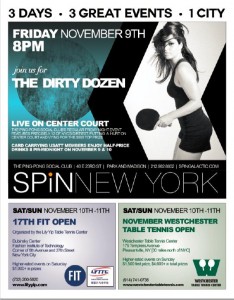 We have something unusual to look forward to in New York on November 9-11. For the first time to anyone's knowledge, three clubs — SPiN, the Lily Yip Table Tennis Center, and the Westchester Table Tennis Center — are teaming up to hold big table tennis events in the same area on the same weekend.
The fun begins Friday night at SPiN New York, the world-famous Manhattan-based ping-pong social club (48 East 23rd St.), with their weekly Dirty Dozen Contest. Twelve of the top table tennis players in the New York area will face off on center court for a $500 cash prize, while spectators drink and socialize just a few feet away. Wally Green announces the matches. Music will pound from SPiN's state-of-the-art sound system. There may be an impromptu dance contest or some other bit of craziness. You have to see SPiN to believe it. For Nov. 9 only, the Dirty Dozen starts at 8 pm. Show your USATT membership card, and drinks, including Pepsi and orange juice, are half-price. (The same offer goes for Saturday night.) Enjoy a night in the Greatest City on Earth and watch some fabulous table tennis.
On Saturday and Sunday the Lily Yip TTC hosts the 17th FIT Open (Dubinsky Center Gym, corner of 8th Ave. and 27th St., in Manhattan), and the Westchester TTC hosts the November Westchester Open (175 Tompkins Ave., Pleasantville — 47 minutes by train from Grand Central).
These two tournaments are being coordinated so players can take part in both. The lower-rated events (up to 1750) are scheduled in Westchester on Saturday and at FIT on Sunday. The higher-rated events (over 1750) are the opposite.
Anyone competing in both tournaments gets 20% off the event fees at each one.
The FIT Open is a 2-star tournament with $1,500 in prizes. The Westchester Open is a 3-star tournament with $4,650 in prizes.
Whether you're from New York or across the country, if you're a table tennis enthusiast, we hope you'll take part in this exciting, first-of-a-kind weekend.
For more information:
SPiN: www.spinyc.com
Lily Yip TTC: www.lilyttc.com
Westchester TTC: www.westchestertabletennis.com
Will Shortz is the crossword editor of The New York Times and puzzlemaster for "Weekend Edition Sunday" on NPR. Also an avid table tennis player, Will owns the Westchester Table Tennis Center and is USATT-rated 1850. As of this writing he has played table tennis for 272 consecutive days.
Sponsor Ad: TableTennisStore.US - 1000 XIOM, TSP, JOOLA, CHAMPION table tennis products!