Sponsor Ad: TableTennisStore.US - 1000 XIOM, TSP, JOOLA, CHAMPION table tennis products!

Are you planning to buy a new blade? Not sure which handle to choose from? This short article will provide you with insight and intelligence. Enjoy!
There are six major handle styles in the marketplace. They are as follows.
Anatomic: A handle that widens in the middle.
Conic: A flattened cone shaped handle that widens at the handle base.
Flared: A handle that is narrower in the middle.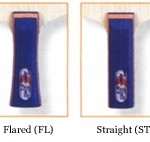 Straight: A handle that has the same thickness throughout.
Chinese Penhold: A shortened conic handle for the penhold grip.
Japanese Penhold: A cork block handle stem glued to the forehand side of the blade handle.
The flared handle is the most common and widely used handle grip. Approximately seventy percent of all
blades purchased in the United States are flared. The flared handle style is the grip of choice for offensive players who plan to attack and topspin loop. The handle with its widened head and foot is ideally suited for creating the fine balance between loose grip tension and grip stability when swinging rapidly through the hitting zone. Why? Because the thicker handle head and foot can be squeezed at the top and bottom of the palm while the center of the blade can rest comfortably in the palm.
The straight handle is often the handle of choice for defensive players. Why? Because most defensive players like to flip or "twiddle"" the racquet between points. Defensive players commonly have two different playing surfaces and flipping the racquet between points can increase deception and make it more difficult for the opponent.
The Conic and Anatomic handles are essentially novelty options. For this reason, not all blades in the marketplace today carry the choice of Conic or Anatomic. There are however world ranked players and coaches that swear by these handle styles. Bottom line! If a conic or anatomic handle style feels very comfortable in your hand over the others, then it is the handle style for you!
Chinese Penhold and Japanese Penhold. These handle styles cater to a very specific group of players who have chosen the penhold grip. The cork block on the Japanese Penhold racquet promotes a firmer grip at the head of the racquet and allows a Japanese Penhold grip player to drop the other fingers on to the backside of the racquet. The result is a very stable forehand, but no ability to use the backside of the racquet. The Chinese Penhold handle enables players to curl their fingers onto their palm, thereby opening the backhand side of the racquet for play. With the invention of penhold backhand loop over the past ten years, the Chinese Penhold handle has a clear advantage over the Japanese Penhold handle.
We hope this article gives you a insight into the different blade handle choices and what is best for you.
Have a great day!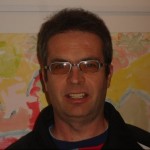 Ben Nisbet
Sponsor Ad: TableTennisStore.US - 1000 XIOM, TSP, JOOLA, CHAMPION table tennis products!