Sponsor Ad: TableTennisStore.US - 1000 XIOM, TSP, JOOLA, CHAMPION table tennis products!

Greetings Subscribers and Table Tennis Enthusiasts!
Table Tennis is an Olympic event and as we head closer to London 2012 here will be an uptick in publicity for our wonderful sport.
For those of you who missed it, the New York Times did a terrific follow up article on June 21st on Olympic Hopefuls and the India Community Center.  The article is titled Unlikely Incubator for Olympic Talent. Table Tennis is not only a social sport, it is a sport where in order to improve, one must play against others who are better regularly and often.   Having a great coach is not enough!
There are perhaps just a handful of places in the United States where you could register your 8 year old child and legitimately have confidence that in six years time he or she has a chance to compete at the Olympic Trials.   What ICC has done in the past few years is miraculous.   As the Olympics approach, we should take a moment and reflect what was accomplished over the past few years.  Our sport is growing and the level of play is beginning to rise!
Bravo to ICC.  We hope that in four years time there are 50 centers like ICC.   If we get to that number or near it, USA would certainly start to produce some international talent that would play on the world stage.    That would be very exciting!
Ben Nisbet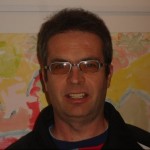 Ben Nisbet and his wife Remy are Co-Owners of TableTennisStore.US.  Ben Nisbet is a life time table tennis player, who represented the United States as Junior and who served as Executive Director for USA Table Tennis for Two Years.  He also co-founded American Youth Table Tennis a 501c3 not for profit that provides after school table tennis leagues and instruction for over 1,500 New York City School Children annually.
Sponsor Ad: TableTennisStore.US - 1000 XIOM, TSP, JOOLA, CHAMPION table tennis products!